Pendaftaran Kursus UHB12902 English Development and Engagement bagi pelajar kohort 2020/2021 yang diberi pengecualian kursus UHB10102 English for Higher Education.
 

Laluan Kursus Bahasa Inggeris yang ditawarkan di Pusat Pengajian Bahasa 
Planning to sit for IELTS?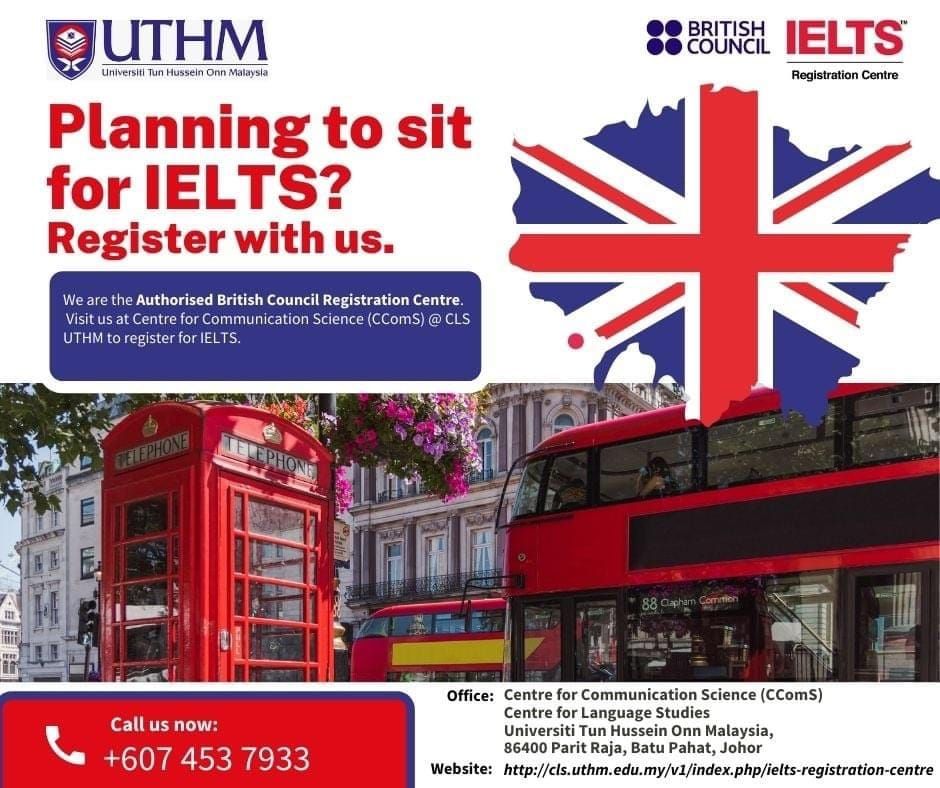 Come register with us at Centre for Communication Science (CComS) UTHM. CComS UTHM has been appointed by the British Council as the Authorised British Council IELTS Registration Centre.
If you're planning to sit for IELTS, you can register for the test with us either by visiting us at the Centre for Communication Science (CComS) office, or contact us at +607-4537933 during office hours, or contacting any of our British Council IELTS
This email address is being protected from spambots. You need JavaScript enabled to view it.
This email address is being protected from spambots. You need JavaScript enabled to view it.
This email address is being protected from spambots. You need JavaScript enabled to view it.
Menjunjung setinggi-tinggi kasih di atas pengurniaan Darjah Sultan Ibrahim Johor Yang Amat Disanjungi Pangkat Kedua Dato' Mulia Sultan Ibrahim Johor (D.M.I.J.) sempena Sambutan Ulangtahun Hari Keputeraan Duli Yang Maha Mulia Sultan Ibrahim Ibni Almarhum Sultan Iskandar, Sultan Yang DiPertuan Bagi Negeri dan Jajahan Takluk Johor Darul Ta'zim pada 22 November 2023 kepada Yang Berhormat Profesor Dato' Ir. Ts. Dr. Ruzairi bin Abdul Rahim, Naib Canselor Universiti Tun Hussein Onn Malaysia (UTHM).
16th October 2023, Monday
Centre for Language Studies (CLS), UTHM, and JM Business Ethics Consultancy SDN. BHD (JMBEC) have signed a Letter of Intent (LOI) to form an academic partnership. The ceremony took place on November 21, 2023, at the JMBEC office in Mid Valley City's Northpoint Offices.
The primary goal of this collaboration is to promote mutual academic advancement through knowledge exchanges, joint training of staff and researchers, and the exploration of other potential areas of cooperation as agreed upon by both parties. This collaboration has the potential to improve the skill sets of UTHM employees by providing opportunities for upskilling and increasing their value in their respective fields.
CLS was represented at the LOI signing by its Dean, Associate Professor Dr. Azmi Bin Abdul Latiff, and JMBEC by its Director, Mr. Isrami Bin Ismail. Among those in attendance were Madam Hiyama Junko, CLS's Japanese Language Course Coordinator, and Mr. Rosmahalil Azrol Bin Abdullah, CLS's Japanese Language Teacher. Noritaka Araki and Ng Chee Hock, the Director of JMBEC, were also in attendance.
A one-day "Speak with confidence and teach with authority program" at Kluang Community College on 21 November 2023, was conducted by Dr Sazuliana Sanif, Assoc Prof Dr Siti Noor Fazelah Mohd Noor and Dr Salawati Ahmad. The event served as part of the centre's corporate social responsibility in achieving the vision to enhance university-community collaboration and involvement.
16th November 2023
A seminar entitled 'Do THIS, Not THAT; Leveraging Communications to Manage Trust' was held at Perpustakaan Tunku Tun Aminah. Dr. Rahmat Shazi, CLS Adjuct Professor has shared his thought pertaining to the issues in communication, as well as ways to gain trust, especially among industry players.
Batu Pahat 9 Nov 2023 – Bagi meningkatkan kompetensi dan penguasaan Bahasa Inggeris. Satu Program berbentuk aktiviti berkumpulan telah dijalankan bersama para pelajar Tahun Satu Fakulti Pendidikan Vokasional dan Teknologi. Program ini bertujuan memberikan mereka pendedahan berkenaan pengunaan Bahasa Inggeris dan menggunakan bahsa tersebut dalam kehidupan harian. 
Aktiviti dalam program tersebut telah dijalankan oleh dua orang Guru Bahasa daripada Pusat Pengajian Bahasa, UTHM iaitu Cik Farina Binti Azizan dan Cik Nurul Atiqah Binti Johar. Mereka merupakan Guru Bahasa Inggeris dan pernah mengajar pelajar daripada Fakulti Pendidkan Vokasional dan Teknikal tersebut.  
Turut sama membantu dalam menjalankan program ini adalah Cik Adibah Aisyah, pensyarah di FPTV, yang telah membantu dari segi penyertaan pelajar dan hebahan program. 
Program Wander-Ace ini berformatkan 'explorace' di mana pelajar perlu menyelesaikan tugasan berkaitan kemahiran mendengar (listening), membaca (reading), menulis (writing) dan bercakap (speaking). Terdapat empat 'booth' kesemuanya dan pelajar perlu bergerak dari satu 'booth' ke 'booth' yang lain sekiranya tugasan mereka diterima oleh fasilitator. 
Keempat-empat aktiviti yang dijalankan adalah untuk memupuk minat dan meningkatkan kompetensi pelajar dalam pengunaan Bahasa Inggeris.  
Sepanjang aktiviti dijalankan pelajar telah menujukkan minat dan memberikan komitmen yang terbaik dalam menjalankan tugasan berkumpulan.  
Para peserta telah berjaya menyelesaikan kesemua tugasan yang diberikan dan penyampaian sijil disampaikan kepada setiap anggota kumuplan sebagai tanda penyertaan. 
"Diharapkan program Wander-Ace ini dapat dijalankan lagi kerana ianya sangat menarik dan menyeronokkan" kata salah seorang peserta program Wander-Ace.  
Contact us
CENTRE FOR LANGUAGE STUDIES
Universiti Tun Hussein Onn Malaysia
86400 Parit Raja, Batu Pahat, Johor.
---
Email : This email address is being protected from spambots. You need JavaScript enabled to view it.
No. Tel : +607-4537951
Website : https://cls.uthm.edu.my/index.php
---